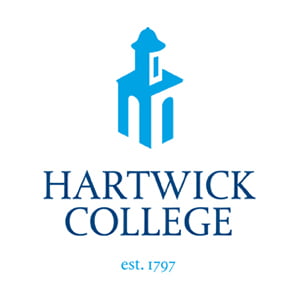 Elwell '77, Hanft '69 to Receive Honorary Degrees at 2018 Commencement
February 19, 2018
Hartwick College today announced former Trustees Virginia (Ginny) Elwell '77 and Robert S. (Bob) Hanft '69 will be presented with honorary degrees at this year's Commencement ceremony.
"I can think of no more deserving candidates for this, the College's greatest honor, than Ginny Elwell and Bob Hanft," said Hartwick College President Margaret L. Drugovich. "They have each served the college with distinction over many years. As long serving Trustees, they each shaped the Hartwick College of today in their own, distinctive way. What an honor it is to honor them."
Also at the ceremony, Linda Reckhow Thomson '72, Ph.D., M.S.N., will be awarded the President's Award for Liberal Arts in Practice. This award is presented to an alumna or alumnus of the College who extends the values that are inherent in a Hartwick education into their life work, to the benefit of others.
Elwell will receive an honorary doctor of laws degree.
She earned a bachelor's degree in international relations from Hartwick in 1977, and was named a John Christopher Hartwick Scholar during her senior year. She later earned an M.B.A. in marketing/multinational enterprise from The Wharton School, University of Pennsylvania.
After a 20-year career in corporate sales in the high-tech sector, Elwell began a non-profit management career. She served as the senior development officer for the Office of External Affairs & Development at the Smithsonian's National Museum of the American Indian. She then served as the executive director of development for Arts & Sciences at the College of William and Mary before retirement.
The epitome of selfless service and commitment to her alma mater, she began a string of volunteer roles in a variety of capacities with Hartwick College shortly after graduation. Her formal service began with her election to the Alumni Association Board of Directors, for which she served three terms.
In 1998, Elwell was elected to the Board of Trustees and has served consecutive terms since then, with a total of 18 years of Trustee service. She was a member of a number of subcommittees, and her leadership roles have included vice chair of the Board and as vice chair of the Development Committee.
In 2015, the Hartwick College Alumni Association presented Elwell with the Meritorious Service Award for outstanding loyalty and service to the College.
Along with her dedication of time and energy to the College, Elwell's financial support has been unwavering. For 41 consecutive years, she has helped ensure Hartwick students have had access to an array of opportunities by providing for endowed scholarships and annual operating expenditures.
Hanft will also be presented with an honorary doctor of laws degree.
After earning his bachelor's degree in economics from Hartwick in 1969, and an M.B.A. from Long Island College, Hanft spent nearly 30 years with JPMorgan Chase, eventually retiring as its chief operating officer for Global Equities. He then served as Managing Director at the Trinsum Group, and currently serves as Managing Director of the wealth management firm Strategic Financial Services.
Over the years, Hanft has provided generous financial support to the College, complemented by his commitment of time and expertise in the development of institutional strategy. Hanft served two full terms as a Hartwick College Board of Trustees member, with a total of 18 years of Trustee service. During this time, he served as board chair for six years, as well as vice chair and treasurer. With Board service spanning three college presidencies, Hanft led the Board's search for a new president in 2003.
Further, Hanft founded a scholarship with his wife, Patricia R. Hanft '72, to provide financial support for students to participate in internships. The College awarded him the President's Medal in 2006.
Committed to the role of non-profits in this region, Hanft serves on several boards, including those for Pathfinder Village in Edmeston, NY, the County of Otsego Industrial Development Agency, Otsego 2000, Hyde Hall, Friends of Bassett, and the Community Board of the Bank of Cooperstown. He is also a member of the Rotary Club of Cooperstown.
President Drugovich will bestow upon Thomson the President's Award for Liberal Arts in Practice. A 1972 Hartwick graduate, Thomson was honored as a John Christopher Hartwick Scholar, and earned the New York State Outstanding Student Nurse Award during her time at here.
She earned her PLP from Northeastern University in 1975, an M.S.N. from the University of Massachusetts (Amherst) two years later, and, in 2001, was awarded a Ph.D. from American Pacific University in Honolulu, HI.
A nurse practitioner and approved consultant in clinical hypnosis, Thomson is co-founder of Hypnovations: Clinical Hypnosis Education and Training Programs; a leader in professional organizations; and a diplomate of both the American Board of Medical Hypnosis and the American Board of Hypnosis in Nursing.
Among Thomson's many publications are two "Harry the Hypnopotamus: Metaphorical Tales for Children" books that introduce children to the power of their imaginations; their brain power. She is also the creator of Stress Free Surgery, a CD program to help patients prepare for and recover from surgery.
Hartwick has honored her groundbreaking work with the Outstanding Young Alumna Award, the Meritorious Service Award, and the Distinguished Nursing Alumna Award.
Thomson's latest recognition comes during the 75th anniversary of the College's nursing program.
For additional information on Hartwick's 2018 Commencement ceremony, contact Paul Habernig, Commencement coordinator, at 607-431-4501 or commencementinfo@hartwick.edu.