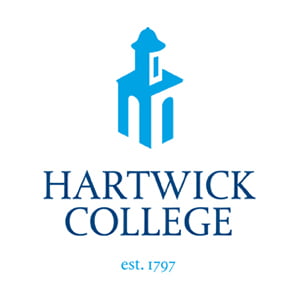 Hartwick College's Budding Grant Writers Helping Local Non-profits
June 11, 2018
Oneonta-area non-profit organizations are getting an assist from students in a Hartwick College grant writing class.
Students in the service-learning course "Introduction to Grant Writing" partner with a local organization with the goal of developing and submitting a grant proposal on their behalf.
Class members acquire a deep understanding of their non-profit's mission, strengths and needs, which then enables them to research appropriate funding sources.
This year the course had six students, each of whom were matched with local non-profits: Girls on the Run, the EDD Memorial Fund, Valleyview Elementary School, the Oneonta Fire Department, and the College's own Yager Museum of Art & Culture.
Global Education and Service Learning Advisor Carolyn Cooper teaches the class.
"Grant- and proposal-writing skills are highly sought after by employers, and students who gain experience with this unique kind of writing will obtain highly marketable skills and experiences," Cooper said. "These skills align with Hartwick's mission of melding the liberal arts with experiential learning, as students develop actual proposals and engage with actual organizations."
She vets each organization to determine if it is a good fit for the class, and pre-screens the students, who must provide a writing sample before being accepted.
The course is divided into four sections: getting to know the organization; identifying sponsors and funding sources; designing, writing, and revising the proposal; and responding to the funder's decision. The subject matter is imparted by assigned reading and guest lectures from professionals in the field. Progress is gauged at each stage by feedback provided by both the partner organization and Cooper.
Toward the end of the course, class members present their work at the annual Student Showcase, during which members of the Hartwick community sample work done by the students during a day-long, campus-wide exhibition.
Last semester, grant requests ranged in size from $500 to $12,000 and were aimed at addressing diverse needs, from the mundane to the elaborate. The partners needed everything from snacks for youth program participants to alternative seating for a 4th grade classroom to a specialized washing machine that removes carcinogens from fabric.
Cooper has also welcomed one member of the community to audit the class each semester. Last year, Oneonta Fire Department Assistant Fire Chief Jim Maloney earned his organization a $5,785 grant to purchase particulate-filtering hoods for his firefighters. This year's auditor, Hartwick College Development Assistant Joanna Cacciola, helped earn a $5,000 grant for the Community Arts Network of Oneonta, for which she is also board secretary.
Maloney became a partner for the class this year, working with a student to develop and submit a grant for $8,400 to secure a commercial washing machine for firefighting gear.
"Introduction to Grant Writing" is offered as an English class, not a business class. That is by design.
"Developing grants requires a specific style of writing," Cooper reasons. "Writing is an argument, and every grant is essentially an argument."
Students also hone their research, professional, and interpersonal skills, she adds.
Professor of English and Department Chair Susan Navarette sees the class as the "ideal blend of academic and theoretical, skills training and traditional classroom experience, to address an actual community-based interest that benefits from the strategic application of those skills.
"Securing funds to support a group's articulated need is an unrivaled experience for undergraduates," she added. "Fortunately, we are nimble enough at Hartwick to act on promising initiatives and emerging trends, and have multiple interested parties here that helped develop a course such as this – to the benefit of not only our students but their clients."
Since the class is taught in the spring, the long grant-selection cycle generally precludes students from finding out if they were successful before leaving for the summer. Cooper, however, monitors the process after the semester ends and provides updates to students and partners.
Soon Cooper will know if this year's batch of grant writers achieved its goal of securing funding for its partners.
Regardless of funding outcomes, the students have created an outline and/or documents that these non-profits can use in future grant-seeking efforts. The students will have also gained real life experience while honing skills in a different, albeit important, style of writing.
Next year a new set of grant writers will be at it again, helping local non-profits in their efforts to obtain critical financing. They will also learn what this year's class noted in its Showcase presentation, "The pressure of a community project is real: we don't want to let our partners down!"
For more information on the "Introduction to Grant Writing" class, contact Cooper at cooperc@hartwick.edu or (607) 431-4422.