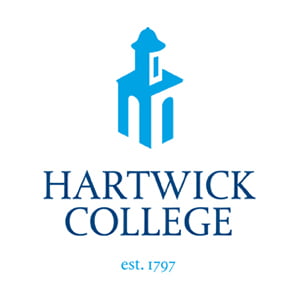 Hartwick's 2018 O'Connor Chair Lecture to Address Mental Illness
February 23, 2018
The Hartwick College Department of Nursing will present the 2018 O'Connor Chair Lecture at 7:30 p.m. on Wednesday, March 14 in Anderson Center for the Arts Theatre on the College campus. This year will feature a panel of four distinguished speakers offering unique perspectives on the topic of "Combating the Stigma of Mental Illness." The lecture is free and open to the public.
Lieutenant Colonel Andy Kaufmann is a retired United States Army Officer who served for more than 20 years with multiple deployments as a medic, and subsequently as an OH58D Kiowa Warrior Pilot around the world. As a result of his injuries, Kaufmann was medically retired from the US Army in 2009. He is the recipient of the Purple Heart and the Air Medal, as well as numerous other awards from the US Army. He is a Certified Equine Specialist and is on the Equine Assisted Growth and Learning Association (EAGALA) Military Task Force Board. He will speak about mental health and mental illness within the military population, as well as alternative methods in helping manage mental illness.
Christy A. Coe, JD, MS is a Principal Attorney on the staff of the Mental Hygiene Legal Service, Third Judicial Department, an agency of the Appellate Division of the New York State Supreme Court, which provides legal service and assistance to persons in mental hygiene facilities or those alleged to be in need of care in such facilities. A graduate of St. John's University School of Law, Coe attained a Master of Science in Bioethics in 2013 from Union Graduate School/Icahn School of Medicine. She will address legal aspects of mental health and the rights that those who suffer from mental illness are granted and denied.
Suzi Landolphi is a Senior PATHH Guide at Boulder Crest Retreat in Bluemont, VA, a privately-funded retreat for combat veterans, their families and first responders. She is one of the creators of its signature program, Progressive and Alternative Training for Healing Heroes (PATHH). Landolphi has also developed an equine therapy model called Horse Inspired Growth and Healing (HIGH), which includes ground and mounted activities to nurture posttraumatic growth and holistic wellness. Before becoming a psychotherapist, Landolphi received a B.A. in Theater from Middlebury College and worked as a video and film producer/director.
Dr. Malika Carter began as the first Chief Diversity Officer (CDO) for the (SUNY) College of Environmental Science and Forestry (ESF) in August, 2017. Previously the CDO for the city of Worcester, MA, Carter has more than 15 years of experience developing policies that address elimination of the stigma of mental illness. SUNY ESF and the National Alliance on Mental Illness (NAMI) Syracuse have partnered to implement the "CEOs Against Stigma" campaign developed by NAMI Massachusetts. The mission of the campaign is to change attitudes toward mental health within the community and workplace. Carter earned a Ph.D. in Institutional Analysis from North Dakota State University and a Master's degree in Higher Education and Student Affairs Administration from the University of Vermont.
This year's topic was developed via a collaboration between Clinical Assistant Professor of Nursing Dr. Virginia DelBusto-Cohen and senior students enrolled in her Psychiatric/Mental Health Nursing course.
The O'Connor Chair Lecture series, endowed by the A. Lindsay and Olive B. O'Connor Foundation, brings notable speakers on health and nursing-related themes to the campus each spring and fall for the benefit of nursing students and faculty, and the Hartwick and greater Oneonta communities.
For more information on the O'Connor Chair Lecture, contact Coordinator of Nursing Opportunities Jane Bachman at bachmanj@hartwick.edu or (607) 431-4790.