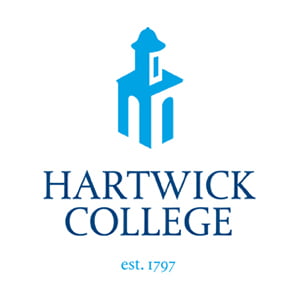 Hartwick's Three-Year Degree Program Graduates Exceptional Students
June 8, 2018
Twenty-two motivated students recently graduated Hartwick College in three years, thanks to a special degree program. Introduced in 2009, the College's unique Three-Year Degree option is one of the first of its kind among small liberal arts colleges.
Students in the program sharpen their creative and critical thinking skills and learn how to apply them to make a lasting impact—in three-fourths the time, for three-fourths the cost. From accounting to theatre arts, students can select from 26 degree programs – even the traditionally strenuous nursing program is included – in which to major.
Reyhana A. Raqib of Delhi, NY is one of the nursing program's newly minted graduates. A member of the Hartwick College Honors Program, Raqib didn't let a fast-track academic program limit her participation in opportunities, both on campus or off. She served as the Community Outreach Coordinator for the College's Office of Community Involvement and Volunteerism, and as a tutor in the campus Writing Center. She served as a Postanesthesia Care Unit Student Nurse Intern at Bassett Hospital in Cooperstown for a summer as part of her academic program, and even found time for a part time job at a local movie theatre.
Raqib was also a driving force in the creation of the campus' Contemplation Room in Shineman Chapel House, working closely with the president's office to develop the concept.
But as busy as she was, "I don't feel that I missed out on any part of Hartwick life," Raqib said. "In fact, I felt as if I made more friends because I was in the program. My Three-Year Degree Program friends and I knew how hard we worked so we always made sure to plan a rest break or relaxing outing together."
She also took advantage of having a mentor in the nursing program who knew what it was like to go through the Three-Year Degree Program. "She advised me on the best time to take certain classes, and how to get through writing my thesis when I was only in my second year of college. We developed a special bond and even now, after she and I have both graduated, we still keep in touch."
The program, and her mentor, served Raqib well, having helped land her a position in a Pediatric Intensive Care Unit.
Connor Dodge was an anthropology major from Owego, NY, and winner of the Lambda Alpha National Scholarship at this year's Honors Convocation. He graduated as a member of the College Honor Society, and he served as a vice president for the student-run radio station, WRHO, and was actively involved in student senate.
"Connor was an exceptional anthropology major who, while completing all his requirements in three years, became a department Faculty Scholar, winning the Lewis Henry Morgan award in his first year, then the Franz Boas award as a graduating senior," said Professor of Anthropology and Department Chair Jason Antrosio. "Further, he served as president of the Anthropology Club, and as a teaching assistant for first-year students in forensic osteology."
After excelling in this accelerated experience, he is on his way to the Graduate Certificate Program in Forensic and Biological Anthropology at Mercyhurst University.
"Program enrollees enjoy all the opportunities afforded our traditional students, including domestic and international J Term global experiences, internships, and undergraduate research projects," said Provost Michael Tannenbaum. "They are leaders in organizations, on our athletic teams and in the classroom."
For more information on the College's Three-Year Bachelor's Degree program, visit its website or contact Provost Tannenbaum's office at (607) 431-4400.