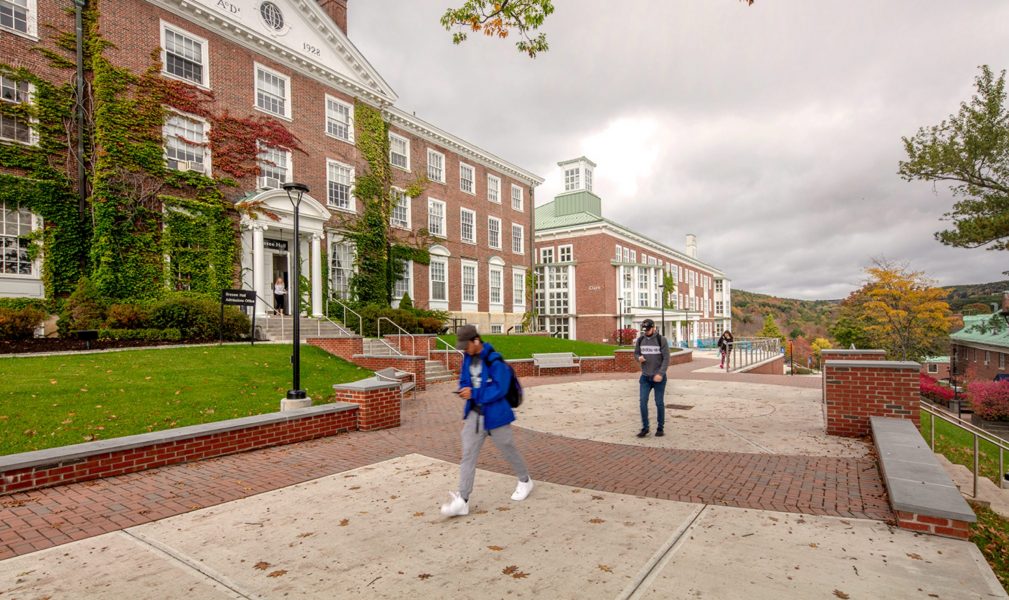 Commencement
The 91st Hartwick College Commencement ceremony celebrating the Class of 2023 was held on Saturday, May 20, 2023 at 11:30 a.m.
Read the News Story
At Hartwick College, Commencement is much more than the ceremony in which we award the traditional hood and degrees are conferred on graduating students. It is the moment our students become alumni. It is the day you step off our campus prepared to make a difference in the world.
Enjoy Moments of Commencement – Class of 2023
Class of 2023 - Commencement Ceremony Album
Photos of ceremony on Facebook
View Album
Class of 2023 - Nurses Pinning Ceremony Album
Photos of ceremony on Facebook
View Album
Last Walk - Founders' Way
Commencement 2023 Newsletters
Commencement Information for Families & Friends
Commencement is a celebration for you, your family, and the College. It is a time to reflect on accomplishments achieved and to look forward with great anticipation to all of the opportunities that will unfold. We hope that you will be able to join us for this very special occasion.
Accommodations are always limited for the weekend of Commencement. Please plan ahead.
Students may choose to order personalized Commencement announcements, name cards, thank you notes, and other items from Jostens. You may order directly from the Jostens website. You may also call 1-800-854-7464.
The formal Commencement Ceremony will take place under a tent on Elmore Field at Binder Physical Education Center. Our tent is able to accommodate approximately 2,500 guests. All seating is based on a first – come, first served basis.
The tent will be open to guest beginning at 10:30 a.m. on Saturday morning. We will provide assistive transportation by golf cart from the drop off point at Binder, to the
Commencement tent beginning at 10:30 a.m.
If you are interested in seeing what the Hartwick College Barnes & Noble Bookstore offers for Commencement gifts, we encourage you to visit their website. The ever-popular diploma frame is available to order though Barnes & Noble Bookstore as well. The bookstore will also have available clothing and memorabilia on Elmore Field for those who wish to purchase a gift the day of the ceremony. You may contact the bookstore by email at wedannf@hartwick.edu or by telephone 607-431-4342.
There will be a flower vendor, Commencement Flowers, on the grounds near the Commencement tent prior to the start of the ceremony and after the ceremony if you wish to purchase flowers for your graduate. Link to pre-order flowers for pick up the day of the ceremony is coming soon!
Hartwick has retrained the professional commencement photography services of Genesee Photo Systems. Each graduate will be photographed, when receiving their diploma. A few days following Commencement, the graduates will be notified by email when images are available to view and purchase online. For additional information, or should you have questions, please call 1-800-345-7427 or email service@geneseephoto.com.
The Commencement ceremony will be webcast live on the Commencement webpage beginning at 11:30 a.m. on the day of the event. The ceremony will also be webcast on the College's YouTube Channel as a Live event.
Note: Streaming video from the webcast links will be intermittent until just before the ceremony.
Accessible seating is available for guest who have mobility limitations. Arrangement will be made for an interpreter for the hearing impaired, if the need for that service is made known to us within the appropriate 14-day timeframe to request services. Arrangements must be made through Aimee Beavers at beaversa@hartwick.edu.
There will be a drop-off area adjacent to the Binder Physical Education Center. Guest with mobility limitations, even those who do not have a sticker or tag, will be directed to this location. Upon entering campus, please ask Campus Safety personnel to direct you to this drop-off area if necessary. Golf carts will be available at the drop-off location to provide assistive transportation to those with mobility limitations, and to return them to the drop-off area following the ceremony.
Hartwick College does not require vaccinations for guests. Mask wearing will not be required during the events, but is welcomed. Masks will not be provided.
This year's Ceremony may be attended by graduating seniors, guests, and those Hartwick community
members who are part of the day's celebration. Elmore Field will be available to guests at, not earlier
than, 10:30 a.m. Seats will be available on a first-come basis and cannot be reserved.
Hartwick has made provisions for alternative viewing of Commencement through:
Webcast/Live Streaming: To view the webcast, go to the Commencement webpage and click "Webcast of Commencement" (The link will be posted on Commencement Weekend).
Multiple viewing locations will be available around the campus on the day of ceremony.
We remind students that Commencement is the most formal academic ceremony, and professional
attire is appropriate. We also recommend students keep in mind that the spring weather can make for a very soft field surface, where a stiletto heel may be neither functional nor safe.
Seating is available for guest with mobility limitations on a first-come, first-served basis. Parking placards may be requested to assist with accessing the drop off point.
Arrangements requested at least 14 days in advance (May 6) are available for an interpreter for the hearing impaired. Arrangements must be made through Aimee Beavers at beaversa@hartwick.edu.
Shuttle and vans will be available to transport guest from each of the parking lots to a drop-off location outside Binder Physical Education Center. In addition, the drop-off location next to Binder is the location where guests with wheel-chairs or those with mobility limitations will be directed for parking accommodation upon request. Please note that certified handicap tags are not required to use this drop-off location. We recommend that guest indicate their interest in using this drop-off area when arriving on campus. Golf carts will also be available at the same location to transport guest to the Commencement tent and return them to the drop-off area following the ceremony.
Central New York weather in May can be mild and sunny or cold and rainy. Recent Commencement weekends have had both weather extremes, so flexibility and practicality are good planning principles. Dress with an eye to the weather and comfort. Low heels, wedges or flats are appropriate for navigating the grass and terrain of Elmore Field. Rain gear, including water-impervious footwear, may be important; and rain ponchos are preferred over umbrellas so sightlines are not blocked. Sunglasses and hats may also be useful. Based on our weather extremes, layers of clothing are a suggested strategy.
Campus safety personnel and parking attendants will be stationed at all campus entrances and
around campus on Commencement Day to direct guests to parking lots. Shuttle service will be provided to transport guests from parking lots to Elmore Field. Accessible parking will be available, for those who have a visible sticker or tag. An elevator is Golisano Hall will take guests to the lower entrance of the Binder Center, where another elevator can take guests to field level.
We will offer seats on Elmore Field to more than 2,500 guests to view the Commencement Ceremony.
Elmore Field will be available to guests at 10:30 a.m., not earlier. Seats will be available on a first-come
basis and cannot be reserved.
Rain unfortunately, is not an infrequent occurrence in Central New York in May. Unless weather conditions are dangerous or severe (i.e., lightning), Commencement will take place outside on Elmore Field, although processions and programs may be shortened or altered. Fortunately, our guest seating is under the tent, however if rain is forecast, ponchos are the rain gear of choice. They provide unimpeded sightlines and aid in the comfort of guests who would otherwise be on the receiving end of the umbrella runoff.
Elmore Field, adjacent to Binder Physical Education Center, is the venue for the Commencement Ceremony. Guests may arrive on campus from any entrance on Commencement Day and will be directed by Campus Safety to the appropriate parking lot. Shuttle service will be provided to transport guests from parking lots to the Ceremony site. In addition, for those guests who would like to enjoy the beautiful views from Oyaron Hill, signs and staff will be posted along the walkways to assist in directing foot traffic to Elmore Field.
Hartwick College seniors are permitted to stay in their residential spaces until 8 p.m. on
Commencement Saturday. Guests who wish to stay in the local area, should review local accommodations information. Availability is limited, we recommend booking rooms as far in advance as possible.