Hartwick College
Top 150 National Liberal Arts Colleges in 2023 —U.S. News and World Report
Take Flight with Us
You belong here. Located in the foothills of the Catskill Mountains in Oneonta, New York, Hartwick College is a close and caring community that will make you feel right at home. Here you'll find your place, your people, and your path. And with our distinctive offer, FlightPath, you'll prepare to launch the rest of your life.
A space for everyone
At Hartwick, we believe our differences are our strength. That's why we're committed to fostering an environment of thoughtful exchange on- and off-campus.
Hawks have fun together
You'll quickly find your people at Hartwick. Get involved in Greek life. Play a varsity sport (one-third of our students do). Join a club or two or three. Explore Oneonta and get involved in community service. On this beautiful and vibrant campus, you'll discover that making friends comes naturally, everyone is rooting for your success, and there's always something going on.
We Rise Together
We invite you to explore the 2020-2021 Hartwick College President's Report, an immersive digital experience where you can read and learn about all of the new and exciting initiatives at Hartwick, including FlightPath, our unique approach to education.
Learn more about Hartwick.
Discover more about who we are, how we started, what's happening throughout campus, and how you can visit.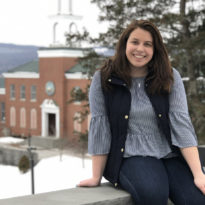 "At times I ask myself, 'Can I do this?' The answer is always, 'Yes, I can.' That's because of what I built through all my experiences at Hartwick."
Stephanie Sacco '18
Air Force Proposal Manager Lead at Sikorsky Aircraft, a division of Lockheed Martin.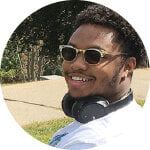 "When I came for my football visit, the view out over Frisbee Field just spoke to me. I knew this was the place for me.
"Everything fell in line for me with the many options at Hartwick. The professors will set you up for success academically and the events for students will set you up for success socially. This place just feels like home.
"I can't wait to see what the rest of my future holds for me at Hartwick. Go Hawks!"
Noah Hurt '24
Criminal justice major from West Hartford, CT
"I know deep in my heart that Hartwick is where I belong. All of the tools I will need for my future career are here in front of me; I just have to run with what I have been given."
Sofia Escobar '24
Creative Writing Major
"When I first visited Hartwick and met my coach, I knew within 10 minutes that the environment here at Hartwick would be the best for me among all other schools. We swim with our hearts and it shows.
"I was team captain in high school, too, but found my love and passion for the sport here. I wouldn't have wanted to be on any other team in any other place."
Tori Argentieri '20, RN
Nursing major, Swim Team Captain, Med-surg nurse, The Cleveland Clinic