News
Hartwick College Expands Graduate Offerings with Nursing Master's Degree and Certificate Program
March 28, 2022
Hartwick College has received approval from the New York Department of Education to offer two new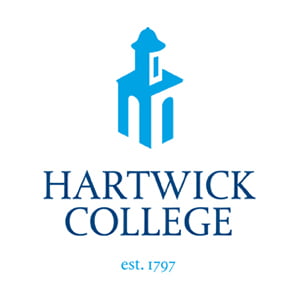 graduate programs: a Master's in Nursing Education (MSN) and a Certificate of Advanced Study (CAS) in Nursing Education.
The expanded offerings build on Hartwick's success in educating experienced and insightful nurses at the undergraduate level – one of the oldest and well-respected nursing programs in the state. The new offerings, which begin in May, are designed to be taken online, with support from experienced faculty mentors. Applicants need to have a BS/BSN and at least a year of experience in the field.
Hartwick College's innovative MSN and CAS tracks focus on both education and leadership, while preparing students to enter either academia or the clinical practice arena. Graduates will be prepared to deliver and oversee the education of both nursing students and practicing nurses. These credentials will also help prepare nurses for Certification in Nursing Education (CNE).
"Hartwick has been a leader in nursing education for nearly 80 years," said President Margaret L. Drugovich. "These two new Hartwick programs will address the regional and global shortage of qualified nursing faculty and the need for highly qualified registered nurses who are actively engaged in practice. These two new offerings leverage the strength and reputation of the Hartwick nursing degree."
Hartwick's Master's in Nursing Education degree will prepare nurses for the advanced, multidimensional role and responsibility as nurse educators within academic and health care settings. This 36-credit curriculum consists of nine credits in core courses; 16 credits in specialty courses; and seven credits in cognate courses. Four credits include 180 experiential hours in the Mentorship Practicum, an immersive program based in classroom and clinical settings that features curriculum and instructional activities, faculty forums and committee work, workshops, and scholarly endeavors. The MSN is ideal for someone without a graduate degree and wants to teach in an academic setting for nurse aides, LPNs, or RNs, or in the clinical arena as an educator for a unit or agency.
The CAS in Nursing Education provides foundational courses designed to assist the post master's learner in transitioning to a variety of educational settings, including, but not limited to, academia, practice, and industry. This 18-credit program consists of study in educational theory and practice; curriculum development and evaluation; cognitive development and instruction; transformational leadership; educational measurement and evaluation; as well as the Mentorship Practicum. This program is perfect for someone with a graduate degree who wants to teach in an academic setting for nurse aides, LPNs, or RNs, or in the clinical arena as an educator for a unit or agency.
Hartwick's MS and CAS build upon the professional foundation in baccalaureate coursework from accredited nursing programs and the framework of the American Nurses Association (ANA) Scope and Standards of Practice; Commission on Collegiate Nursing Education (CCNE) Essentials; National League of Nursing (NLN) Competencies for Advanced Practice Role in Nursing Education (Nurse Educator Core Competencies); state education guidelines; and the ANA Code of Ethics.
The new programs are funded, in part, by grants from the Helene Fuld Health Trust and the Robert and Esther Black Family Foundation Fund of the Richland County Foundation.
The Hartwick College Department of Nursing has an 80-year history of anticipating and addressing healthcare needs across the State of New York, the nation, and the world.
"The Hartwick College Department of Nursing has a long and successful history of responding to healthcare needs within and across regions and global communities," said Nursing Department Chair Patricia Grust, PhD, RN, CLNC. "These two innovative offerings, the master's degree in nursing education and the post-master's certificate of advanced study in nursing education, continue Hartwick's legacy of addressing the shortage of qualified nursing faculty, and subsequently, the shortage of highly qualified registered nurses for the practice arena."
For more information on the Hartwick College nursing program, visit the webpage or contact Grust at nursing@hartwick.edu or (607) 431-4287.