News
Hartwick College to Offer $140,000 Scholarships to "Hero" Nursing Students
January 21, 2022
Hartwick College introduces a generous new scholarship aimed at addressing the unprecedented need nationwide for well-prepared nursing professionals.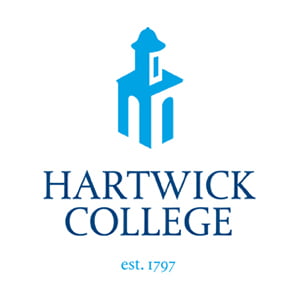 Starting fall of 2022, The Hartwick Heroes Award will provide a minimum of $140,000, payable over four years, toward the tuition of all incoming students accepted into its nursing program, one of the oldest and most well-established nursing programs in the country. This award reaffirms the College's commitment to developing nurses who are ready to make an impact immediately upon entering the workforce, while easing the financial burden they often face after graduation.
"For nearly 80 years, Hartwick-educated nurses have been serving our region, the nation, and the world," said President Margaret L. Drugovich. "We can see the courage with which they have served our communities during the pandemic and many other challenges. This Hartwick Heroes Award is a tribute to them, and will make it possible for aspiring nurses to realize their dream of becoming a Hartwick nurse."
The Hartwick College Heroes Award will provide the foundation of each incoming nursing student's financial aid award. Nursing students may also qualify for additional college grants, scholarships, and other forms of financial aid based upon their eligibility; those who enroll in the College's innovative Three-Year Bachelor's Degree Program are also eligible for the Heroes Award.
The new scholarships underscore Hartwick's commitment to FlightPath, its innovative approach to supporting student success through exposure to a future-focused curriculum, mentoring, and career preparation. Like all Hartwick students, nursing students benefit by having their own dedicated Guidance Team, including a Faculty Advisor, Success Coach, Career Coach, and Alumni Mentor.
"Hartwick College offers nursing students cutting-edge learning experiences that well prepare our graduates to deliver the highest quality of health care to diverse populations, in diverse settings, and often in unique circumstances," said Nursing Department Chair Pat Grust, PhD. "Our experienced faculty and staff, simulated nursing laboratory space, and excellent clinical partners combine to provide the foundation that makes the Hartwick nurse a ready provider of 21st century health care."
Nursing Schools Almanac ranks Hartwick's nursing program as one of the Top 20 pre-licensure BS programs in the state. Supported by multiple start-of-the-art simulation labs, top-flight instruction, and unique opportunities for hands-on experience immediately upon enrollment, more than 90% of Hartwick nurses passed the National Council Licensure Examination (NCLEX) on their first attempt (92% in 2020).
For more information on the Hartwick College Nursing Program visit http://www.hartwick.edu/nursing.