News
Hartwick Welcomes Eclectic Authors To Spring Edition of Visiting Writers Series
February 15, 2022
Hartwick College will host two authors from different ends of the artistic spectrum this spring during the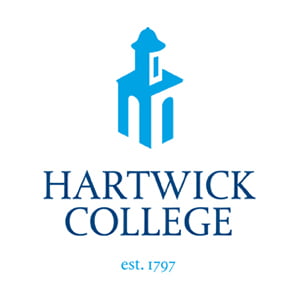 second half of the 2021–22 Visiting Writers Series. Krys Malcom Belc and Michael Peters will read from their work and discuss it with students and members of the Hartwick community. The readings are free and open to the public, and slated to be held in person, in Eaton Lounge, Bresee Hall on the College campus.
Belc is the author of The Natural Mother of the Child: A Memoir of Nonbinary Parenthood (Counterpoint, 2021) and the flash nonfiction chapbook In Transit (The Cupboard Pamphlet, 2018). His work has appeared in Granta, Black Warrior Review, The Rumpus, and elsewhere and has been anthologized in Best of the Net 2018 and Wigleaf Top 50. Belc has won contests at Redivider and Pigeon Pages, and his work has been supported by the Sustainable Arts Foundation. He received his B.A. from Swarthmore College, his M.Ed. in Special Education from Arcadia University, and his M.F.A. in Creative Writing at Northern Michigan University. Belc lives in Philadelphia with his family and works as an educator in a pediatric healthcare clinic.
He will present on Wednesday, March 2 at 7 p.m.
Peters is a multimedia artist, musician, poet, writer, and author. His work, including Vaast Bin (Calamari Press, 2007), explores what he refers to as "the real" through a variety of old and new media, utilizing sound-imaging strategies. In addition to online and print journals, his works are found in special collections and avant-garde libraries like The Sackner Archive and in poetry and visual poetry anthologies such as The Last Vispo Anthology (Fantagraphics, 2012) and Resist Much/Obey Little (Spuyten Duyvil, 2017). He was recognized for his work by the Academy of American Poets, and holds a Ph.D. in English from The University at Albany and teaches at SUNY-Oneonta. Peters is also a member of the band Poem Rocket, and is a label-mate of Sun Ra on Atavistic Records. He recently played the part of Bosse-de-Nage in Dr. Faustroll's remake of Pierre Boulle's original Planet of the Apes.
Peters will come to campus on Wednesday, April 13 at 7 p.m.
The Visiting Writers Series offers students an excellent opportunity for exposure to the larger world of writing beyond the classroom, allows students to see professional writers at work and to envision themselves as working writers.
Admission to the readings is free and the events are open to the public. Attendees and all campus visitors must be vaccinated for COVID-19 and will be required to provide either their vaccination card or the New York State Excelsior Pass. Any visitor requiring an exception to this requirement must complete this form and receive prior approval from the College. Masks are required in all College buildings.
The readings are presented by the Department of English and the Visiting Writers Series at Hartwick College.
For more information, visit the Series website or contact Associate Professor of English Bradley J. Fest at festb@hartwick.edu or (607) 431-4921.