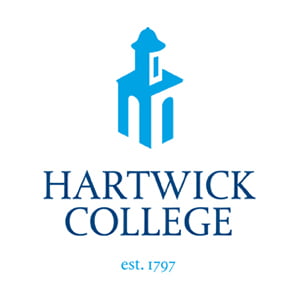 Hartwick's Spring '21 O'Connor Chair Lecture to Discuss Self-Care During Stress
February 26, 2021
Hartwick College will present a virtual edition of the Spring 2021 O'Connor Chair Lecture at 7 p.m. on Friday, March 5. The evening will feature four distinguished experts offering their views on the topic, "Self-Care in Times of Stress: Strategies to Promote Stress Relief, Coping, and Overall Psychological Well-Being." The panel will explore the evolving public health and practice perspectives during this time of uncertainty.
Self-care is a mainstay of holistic health. During times of stress, self-care can be negatively impacted by a variety of factors. As such, there are a multiple ways to relieve stress, improve coping, and facilitate overall well-being. The panel will discuss some of the principles of self-care in relation to managing anxiety and depression, the use of alternative therapies such as hypnotherapy, and strategies for maintaining healthy habits. This discussion aims as giving the audience tangible examples of ways to promote health in stressful times. A Q&A session will follow the panel discussion.
Guest Speakers
Dr. Helen Battisti is a registered and certified dietitian nutritionist. She serves as chief nutrition officer at SpNOD, a remote platform that connects athletes with registered dietitian nutritionists in real time. Helen is a retired Assistant Professor and Director of the Coordinated Program in Nutrition and Dietetics in the Department of Nutrition and Dietetics at Marywood University, Scranton, PA. Battisti taught personal nutrition at Broome Community College for 20 years as an adjunct professor. She also spent three years at SUNY-Oneonta teaching nutrition courses and working as assistant director for the graduate-level Nutrition & Dietetics Internship Program. Battisti currently maintains a private practice at Endwell (NY) Family Physicians, where she provides patients Medical Nutrition Therapy (MNT).
Dr. Francis L. Battisti is an educator, speaker, psychotherapist, consultant, and author in the fields of motivation, health enhancement, and conflict disposition. He has worked numerous corporations, major health-care organizations, and governmental committees, and presented throughout the US, Europe,
Canada and the Caribbean. Battisti was the executive vice president and chief academic officer, as well as a full professor of psychology, at State University of New York (SUNY) Broome Community College. While there, he was named the 2011 recipient of the SUNY Distinguished Professorship for Service, and a 1989 recipient of the SUNY Chancellor's Award for Excellence in Teaching. Battisti is a member of the SUNY Distinguished Teaching Academy. Battisti maintained a private psychotherapy practice for more than 30 years, treating individuals and couples, though his emphasis now is in community responses to mental health needs and how to address them. He received his Ph.D. in human development from Marywood University, and is married to Dr. Helen Battisti.
Dr. Lisa Daly, PMHNP-BC, has been the behavioral health director for NEPA Community Health Care in Binghamton, NY, since 2016. There she oversees the treatment of all patients with emotional, psychiatric, or psychological disorders. She also manages and directs the activities of behavioral health services provided by social workers, psychiatric prescribers and support staff. Previously she worked for the New York State office of Mental Health for three years, and served as an adjunct faculty member at SUNY Binghamton and Hartwick College. Daly was also a staff nurse for Correctional Health Care, Inc, serving Broome County Correctional Facility and Sheriff's Department. She has also published work in a number of nursing journals and books. Daly earned her PhD from SUNY Binghamton in 2020.
Dr. Linda Thomson '72, APRN, ABMH, is a nurse practitioner and approved consultant in clinical hypnosis. She has served as director for Hypnosis for Health and Healing in Ludlow, VT, since 1999. From 1975-2018, she was a pediatric nurse practitioner and approved consultant in clinical hypnosis for Pioneer Valley Pediatrics in Enfield, CT, and Longmeadow, MA. Thompson also served in similar positions for Springfield Medical Care Systems in Massachusetts and Vermont for nearly 20 years. In 2009, she co-founded of Hypnovations, a provider of clinical hypnosis education and training programs. She has worked as an adjunct professor and preceptor at the, Yale University, the University of Vermont, the University of Massachusetts, and Rivier University, among others. Thomson is extensively published, given presentations around the world, and earned numerous awards and industry accolades. She received her PhD from American Pacific University in 2000.
The O'Connor Chair Lecture series, endowed by the A. Lindsay and Olive B. O'Connor Foundation, brings notable speakers on health and nursing-related themes to the campus each spring and fall for the benefit of nursing students and faculty, and the Hartwick College and greater Oneonta communities.
The Zoom link for the Lecture is https://hartwick.zoom.us/j/95997002499.
For more information on the O'Connor Chair Lecture, visit the webpage or contact Coordinator of Nursing Opportunities Geneen Bolton at boltong@hartwick.edu or (607) 431-4790.