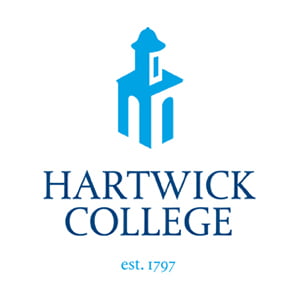 Griffiths Herbert '88, Davis '49 Named Hartwick's Honorary Degree Recipients
April 2, 2019
Hartwick College today announced former Trustees Sally Griffiths Herbert '88 and William K. (Bill) Davis '49 will be presented with honorary degrees at this year's Commencement Ceremony.
"Bill Davis and Sally Herbert are truly iconic members of the Hartwick community," said Hartwick College President Margaret L. Drugovich. "Their dedication to advancing the College – as former Trustees, as loyal supporters through the years – sets an example for us all. Moreover, they lead positive change in the communities they inhabit, and have done so throughout their lives. This is an aspiration the College holds for all of our graduates. It will be a joy to honor Bill and Sally."
Griffiths Herbert will receive an honorary doctor of letters degree.
She earned a bachelor's degree in anthropology from Hartwick in 1988, graduating with departmental distinction and a minor in biology.
After graduation, she worked as a field archaeologist for the Office of Public Archeology at Boston University on the Central Artery/Tunnel (Big Dig) Project of Boston. She and her husband, Tim, then went into business together — first as the owners of Ski Whaleback, Ltd. ski resort, now as owners of Ring Brook Farm, both in New Hampshire.
Griffiths Herbert has a long history of supporting the College. She has served on the Hartwick College Board of Trustees from 2009 – 2018, and numerous committees over the years. She chaired the Facilities committee (2016 – 2018), and the Student Affairs Committee (2011 – 2016).
She further committed her time to the College by attending countless events over the years, including True Blue/Homecoming Weekend, the Wick Athletic Auction, Partners in Scholars Luncheon, JCH Reception, and Honors Convocation.
In 2014, the College named the Sally Griffiths Herbert '88 Aquatic Center in honor of her singular support for renovations to that space.
Griffiths Herbert and her husband support a wide array of Hartwick initiatives, including the Sarah Griffiths '88 and Timothy Herbert Endowed J Term Scholarship, The Pine Lake Institute and Pine Lake Challenge funds, and the Emerson International Internship Scholarship. They also support the All Greek Textbook Scholarship, and have supported the purchase of Commencement Bells for Hartwick graduates.
Most recently, they donated $1.25 million to endow the Griffiths Center for Collaboration & Innovation (GCCI), Hartwick College's hub for out-of-the-box thinking and creative problem solving. The GCCI will provide programming that encourages collaborative idea incubation and development both in and out of the classroom.
Davis will be presented with an honorary doctor of laws degree.
In 1949, he earned his bachelor's degree in business administration from Hartwick. He is a brother of Alpha Sigma Phi fraternity. He would go on to become a legendary figure in the greater Oneonta business community.
In the mid-1950's, he became co-owner of The Ford/Mercury dealership in Walton, NY, expanding the business in the 1960's with a Chrysler/Plymouth dealership in Oneonta, for which he still serves as an advisor.
In the 1980's, Davis became a director of Wilber Bank in Oneonta, N.Y. (now Community Bank), retiring in 1997 and being named a director emeritus in recognition of his 16 years of distinguished service.
He also served on the Board of Directors for the Future of Oneonta Foundation and he has been a member of both the Oneonta and Sidney Rotary Clubs, Sidney Chamber of Commerce and New York State Automobile Dealers Association.
He has been the recipient of many service honors and awards, including the Otsego Chamber of Commerce Distinguished Citizen Award, the Marquis Who's Who Distinction, and the United Way of Delaware and Otsego Counties Community Spirit Award.
Davis has been a supporter of many community organizations, including the Tri-Valley Horseman's Association and the Otschodela (now Leatherstocking) Council of Boy Scouts of America.
His dedication to his alma mater has been just as unwavering.
Davis served 16 years as a Hartwick College trustee, which included terms as board treasurer and vice chair. He also served on a number of committees and held a leadership role for many of them, including vice chair of enrollment, institutional advancement, and budget, and chair of audit, and buildings & grounds.
He also served on the Hartwick Alumni Association Council.
For his dedication to the College, Davis has received several accolades over the years. He was awarded the Hartwick College Alumni Association Meritorious Service Award in 1995, named Trustee Emeritus in 2004, and was awarded the Hartwick College President's Medal in 2005.
Hartwick's 2019 Commencement ceremony will take place on Saturday, May 18, at 11:30 a.m. on Elmore Field on the College campus.
For additional information on Hartwick's Commencement ceremony, contact Paul Habernig, Commencement coordinator, at 607-431-4501 or commencementinfo@hartwick.edu.