News
Hartwick College Music Department Presents Upcoming Performances
March 4, 2022
A number of musical events will be taking place this semester on the Hartwick College campus courtesy of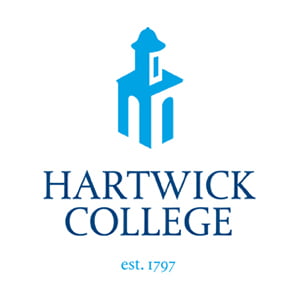 the Department of Music. March features performances by the Hartwick College Wind Ensemble and the Hartwick College Choir and Chamber Choir. All performances are free and open to the public. Performances are held in Anderson Theatre, on the College campus, and begin at 7:30 p.m.
Attendees must be fully vaccinated and boosted; visitors' COVID-19 vaccination cards or Excelsior Passes will be checked at the door. Audience members are still required to wear masks while in the Theater during these concerts.
Performances in March:
Thursday, March 10:
Foreman Institute of Creative and Performing Arts presents composer and electro-acoustic violist Martha Mooke with the Hartwick College Wind Ensemble
Directed by Director of Instrumental Music and Artist in Residence Andrew Pease
Wednesday, March 16:
The Hartwick College Choir and Chamber Choir presents "Meditations on Spring and American Heritage"
Directed by Visiting Assistant Professor and Artist in Residence Steven Nanni
In April, a half-dozen events will be featured, ranging from junior and senior recitals to faculty performances and special guests. May will bring more wind ensemble, rock and jazz combos, instrumental chamber ensembles and choral performances to Anderson Center.
For more information and a full schedule of spring performances, please visit the Hartwick College Music Department website or contact Brooke Chilson at music@hartwick.edu or (607) 431-4800.