News
Northeast College and Hartwick College Partnership to Guarantee Student Admission
May 17, 2023
Northeast College of Health Sciences in Seneca Falls, N.Y., and Hartwick College in Oneonta, N.Y., have partnered to allow students to guarantee their admission to Northeast's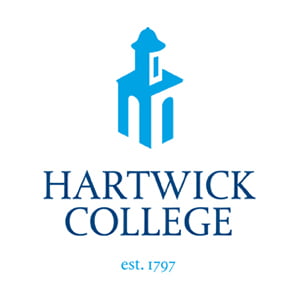 graduate program in the Finger Lakes region, after completing their bachelor's degree at Hartwick.
Together the institutions will provide pathways for Hartwick bachelor of science degree students, including biochemistry, biology, chemistry and pre-med majors, to seamlessly begin the doctor of chiropractic program at Northeast.
A 3+3 articulation track will save students the cost of one year of tuition by allowing them to earn their bachelor's degree from Hartwick College and a doctorate from Northeast a full year faster than it would take to earn the degrees individually. The new 4+3 articulation track will allow students to complete their undergraduate degree at Hartwick and then automatically gain acceptance to Northeast when requirements are met.
Northeast and Hartwick Alumna Guides Partnership, Sets Successful Example
"We are thrilled to offer this opportunity to our students," said Hartwick College President Darren Reisberg. "And what makes it particularly special is that Dr. Julie Scarano, an alumna of both institutions, played such a significant role in making it happen. Her pathway from Hartwick to Northeast has set a fine example for our students. Through this agreement, our students interested in the ever-growing healthcare profession will be well-positioned to pursue their career aspirations right here in upstate New York."
Northeast and Hartwick alumna Scarano '06 (D.C. '09) is now a certified chiropractic sports physician and provider for Summit Health-CityMD, a primary, specialty and urgent care group serving New Jersey, New York, Connecticut, Pennsylvania and Central Oregon. She is also a member of the Northeast College Board of Trustees. "I can certainly attest to this being an ideal partnership to put students on the right track to a successful career in healthcare," said Scarano. "Both colleges focus on the collaboration and real-world experiences that prepared me to be able to practice chiropractic the day I graduated."
Partnerships with colleges and universities are an important part of Northeast College's commitment to provide students with better access to graduate school. "We are proud to
offer these pathways for students who want to reimagine health with us here at Northeast and look forward to welcoming Hartwick students to campus" said College President Dr. Michael Mestan. "Special thanks to Dr. Scarano for her role in making this partnership a reality and encouraging students to take a similar academic path to one that has been so successful for her."
Boasting an integrative approach to learning, the partnering colleges both provide a variety of experiential educational opportunities for its students, "Northeast and Hartwick provided me with the competence, confidence and compassion I needed to grow and succeed as my career has evolved," said Scarano. "I continue to draw from the lessons learned during my experiential learning at both colleges and am extremely excited to witness others potentially follow in the same path."
With either track, students receive guided support from both institutions, allowing them to save time and money. Interested students can contact Amy James, educational partnership manager at Northeast College, at 315-568-3279.
Learn more about the many benefits of Northeast's educational partnerships.