Alumni News
Hartwick's Alumni Awards Salute Influential Graduates, Faculty, and Staff
September 19, 2022
Six members of the Hartwick College community have been selected to receive a 2022-2023 Alumni Award. The honor salutes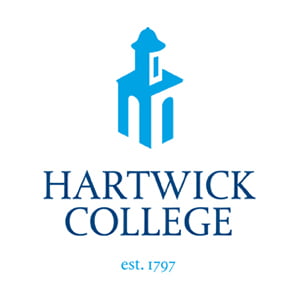 graduates and current faculty or staff for their service to the College and Hartwick community.
This year's winners are:
Dr. Margaret L. Drugovich P'12, President Emerita, of Columbus, OH, who will be presented the Meritorious Service Award for demonstrating outstanding loyalty and effective service to the College.
Dr. Nadya T. Zhexembayeva '01 of Galena, OH, will be named the winner of the Distinguished Alumna Award, given to a graduate who has distinguished themselves through outstanding achievements in their professional career and/or civic or charitable activities.
Kelsey Rousseau '17 of Bethesda, MD, earned the Outstanding Young Alumna Award, given to a graduate of the last decade who has shown exceptional competence, performance, and achievement in professional or volunteer activities.
Kenneth W. Dobert '61 of Moriches, NY, and Dr. William "Beave" Rogers '77, P'21 of Wharton, NJ, have earned the Outstanding Volunteer Award, which recognizes those who have demonstrated outstanding and sustained volunteer service for the College. This includes alumni, retired employees, parents, or friends of the College.
Amy J. Gardner '99 of Oneonta is the College's Outstanding Employee, as someone who has gone above and beyond their job to support the Alumni Association of the College.
The group will be celebrated at a ceremony on Saturday, September 24, during True Blue Weekend.
"We are pleased to recognize the contributions and achievements of such an incredible group of alumni and staff," said Assistant Vice President of Alumni Relations & Career Development Megan Gray. "These awardees were all nominated by their peers, a testament to the impact they've had on the communities they serve. We also look forward to honoring them in person again this year during True Blue Weekend. It is only fitting this distinguished group be celebrated on campus – as it provides an opportunity to not only formally salute these leaders, but reflect on the impact the College has had in shaping their lives."
In her capacity as president of Hartwick College from 2008 to 2022, Drugovich was instrumental in the College's advancement and sustained success. During her tenure, the College expanded academic offerings for students, and solidified its role as a player in regional economic development. These achievements helped improve the national reputation of Hartwick at a time when it faced unprecedented headwinds on the regional, national, and even global levels. As the College's leader, she was accessible to students, alumni, and parents alike. Drugovich did not simply talk about community in the abstract – she lived it. She invited students to dinner at her home to discuss world events, and explained how students' coursework helped inform their international perspective. She traveled across the country to interact with alumni, and recognized them for their achievements. Perhaps most importantly, the Hartwick community's small, neighborhood-like feel that resonated with students, faculty, and staff was in large part fostered by her efforts.
Called "The Reinvention Guru" by Ventures magazine and "The Queen of Reinvention" by TEDx Navasink, Zhexembayeva is a business owner, educator, speaker, and author. She has helped numerous organizations and people revamp their products, processes, and leadership practices. Zhexembayeva has shared her insights with audiences worldwide. In an effort to transform corporate approaches to sustainability strategy, she helped create the concept of "embedded sustainability," which today produces more than 25 million Google search results, and has become a staple for corporate sustainability efforts. She graduated from Hartwick in 2001 with a dual B.A. degree in management and psychology, and served as the College's commencement speaker in 2018. Zhexembayeva received a Ph.D. in Organizational Behavior from Weatherhead School of Management at Case Western Reserve University in Cleveland, OH.
Rousseau graduated with a nursing degree from Hartwick in 2017. She currently works at Boston Children's Hospital in the pediatric cardiac Intensive Care Unit. In addition to working full time, she is enrolled in a pediatric nurse practitioner master's degree program and volunteers each semester, presenting to current Hartwick nursing students about pediatric care, cardiac issues, and treatment. Her students have been incredibly inspired by her work and success in the field.
Dobert faithfully served on the Hartwick College Alumni Board of Directors for more than 16 years, and his most significant contribution has been in providing foundational leadership and dedication to alumni giving. As chair of the Giving Committee, he oversaw the proliferation of the Alumni Board Legacy Scholarship, awarded to qualified Hartwick Legacy students. He raised the funds necessary to endow the scholarship and increased its worth tenfold over the years. Dobert's loyalty and love for Hartwick are reflected in his own giving and through the others he has inspired, including 100 percent of the Alumni Board. His volunteer leadership is truly a model for what it means to give back to the Hartwick community.
Rogers, known by many as "Beave," began his volunteer service on the Hartwick College Alumni Board in 1989. He served as Alumni Board vice president and then president, during which time he helped lay the foundation for so much of the good work that the Board does today. He recently finished his second term on the board, playing a critical role in helping identify integration points with new FlightPath initiatives. Beave actively serves on the College's 225th Anniversary Committee and regularly represents the College at regional functions and delegations. He is a Legacy parent and long-time, loyal supporter and advocate of Hartwick.
In her role as nurse practitioner and director of the Perrella Wellness Center, Gardner has been a voice of reason and source of comfort for countless students, staff, and faculty throughout the COVID-19 pandemic. She has dealt with the incredible demands of the pandemic with patience and grace, and has worked nights and weekends to ensure the Hartwick community is kept healthy and safe, even during her time off. Her loyalty is especially evident by the devotion she shows to students – always serving them with the care and consideration they deserve. Gardner is an invaluable team member, prominent alumna, and incredible representative of the Hartwick community.
For more information on the awards, visit the webpage. For more information on True Blue 2022, visit the event website or contact Gray at 607-431-4170 or alumni@hartwick.edu.