Faces of the Class of
2023
Leah Tolley
Hometown: Pittsford, NY
Major: Business Administration and a minor in finance
Achievements: 4 year varsity starter on the field hockey team and 2 year captain; 4 years on the Dean's List; 3 years on the Presidents List; Honor student; NHSL member; Sigma Beta Delta ; Alpha Pi member; National Field Hockey Coaches Association Scholar of Distinction; National Field Hockey Coaches Association National Academic Squad; Conference All Tournament team; Tournament MVP; Strength and Conditioning All American.
Clubs/interests: Field hockey
Sporting interest: I love being able to attend games/matches for all the Wick teams, it's a great way to bring the campus together and support one another.
Committees/groups I have served on: Commencement Committee; Candidate hiring process' Student Athlete Advisory Committee
Favorite Hartwick memory: Winning the Empire 8 championships senior year at Wright Stadium.
Favorite Place: The town of Oneonta!! I love waking up to the beautiful view each morning and being able to walk into town to get dinner, coffee, or just hang out with friends.
Advice for new Hawks: Join as many groups as you can and talk to everyone! Hartwick is a small campus and it's great to make as many connections as possible, especially with students who are not within your major, on your sports team, or in your dorm hall!
Future plans: I have been interviewing and connecting with many alumni as I look for a job. Currently looking anywhere! We have so many great alumni and connections through Hartwick that I'm willing to move wherever they take me! I'm looking in the business and finance field such as marketing, sales analysts..etc. and have a few job opportunities that I am looking at pursuing but I currently have my opinions open.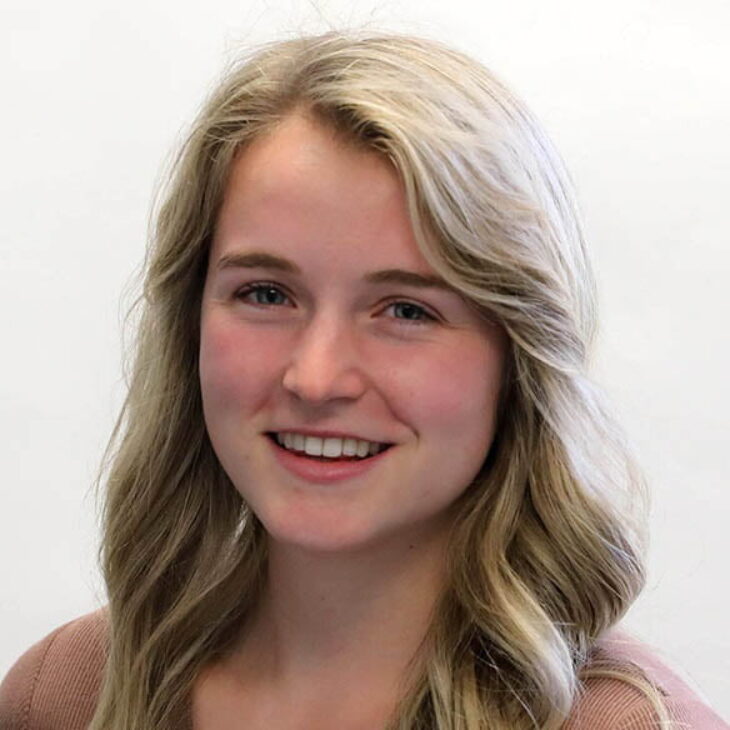 Sydney Gagnon
Hometown: Chestertown, NY
Major: Nursing
Achievements: John Cristopher Scholarship; Hartwick College Nursing Scholarship; 2nd team Field Hockey All-American, and Empire 8 Field Hockey Player of the Year 2022.
Clubs/interests: Hartwick College Association of Student Nurses
Sporting interest: Field hockey
Favorite Hartwick memory: Winning the Empire 8 championship – twice!
Favorite things about Hartwick: My favorite thing about Hartwick is the close-knit community and friends. My favorite people are my teammates and roommates. My favorite place at Hartwick is Wright Stadium.
Advice for new Hawks: Do not be afraid to go out of your comfort zone and be a part of as many activities on campus as you can. You make long-lasting friendships that way.
Future plans: I will be working at Saratoga Hospital in the Medical Surgical unit as a nurse.
Nicholas Volk
Hometown: Montvale, NJ
Major: Physics
Achievements: Formed an astronomy club – Montvale Astronomy – in my hometown; worked on and got my name on an observing proposal for the Green Bank Observatory; and I have also attended workshops at the observatory itself in West Virginia. I'm also in the Math Honors Society.
Interests: am interested in astrophotography, and love the outdoors – backpacking, canoeing, camping.
Committees/groups I have served on: I am a member of the Undergraduate ALFALFA Team, a group of students from various schools and universities that work on research in radio astronomy.
Favorite Hartwick memory: Going on a J Term to Tokyo with my friends and fellow physics majors.
Favorite people and places at Hartwick: My professors are incredible and very supportive. Dr. Troischt always made complex concepts simple to learn and is great to talk to. I love the physics lounge in Johnstone, a great place to study or even just to hang out.
Advice for new Hawks: Enjoy your time here at Hartwick. If you keep focused on your studies and what's important, there are plenty of amazing opportunities! This is the time to explore your interests and use your skills. Making new friends is never easy, but the friends and relationships you make here are wonderful and will inspire and stay with you forever. Take advantage of the amazing J Term trips as well!
Future Plans: I have goals to get into graduate school for the spring semester, I am looking into summer job opportunities in my field of physics.
Jake Ely
Hometown: Fulton, NY
Major: Business major, sociology minor
Achievements: Third Team All League for football – twice
Clubs: Greek life – Alpha Sigma Phi
Sporting interest: Football and basketball
Favorite Hartwick memory: Just being able to live my life with my closest friends.
Favorite place: 71 Spruce Street, which is where I met my closest friends.
Advice for new Hawks: Enjoy every day here like it's your last. Everyone says it but these 4 years are the best and quickest 4 of your life. Hold your friends close, go to class, and have fun.
Future plans: Not sure but am looking for a job.
Katharine Marchese
Hometown: Hudson Falls, NY
Majors: Business Administration and Economics
Minors: Finance and Accounting
Distinctions: Faculty Scholar, Honors Graduate (in the Honors Program), Business Honors Society (Sigma Beta Delta), Economics Honors Society (Omicron Delta Epsilon), The National Society for Leadership and Success.
Awards: Hartwick Community Award, Hartwick College Founders Award, Linda French Memorial Award, The George F. Goodwin Memorial Award, The Sarah Keyes Bresee Award for Economics and Business Administration.
Clubs/Interests: I am a part of VITA, the free tax service on campus, and am a Blue Key leader in admissions, and have enjoyed working for Career Development, Alumni Relations, Finance, and Marketing this past year as well.
Favorite Hartwick Memory: There are too many amazing moments that I have been able to experience here at Hartwick College that it is impossible to choose just one. A moment that has always stuck with me that changed my experience here though, is when a floormate of mine during my very first semester told me that I needed to come out of my room more because "college is supposed to be a slumber party every night". It scared me, but once I got into that mindset, my life here completely flipped and I began to feel at home.
Favorite Spot: As I am sure most of my peers will agree, I have to say that Table Rock is the best spot on campus! It feels like you can see the whole world from up there! It is the perfect spot to think and relax. I have always used the outlook as an escape where I can collect my thoughts.
Advice for new Hawks: Say YES! It took me quite some time to open up here, and if there is anything that I regret, it is the time that I wasted not saying yes to things. Once you step foot on Oyaron Hill, you can be whoever you want to be! It doesn't matter who you were or what you did in high school…you can reinvent yourself and experience so many new and different things that you wouldn't have even thought to do before. Ask for help, sign up for clubs, attend campus meetings, appreciate traditions, do it all! Say YES!
Future Plans: Although I am still weighing my options and trying new things, I am content with my exploration and continuation of learning. Whatever direction I decide to go, I have the Hartwick Community to help me every step of the way!
Zach Hayn
Hometown: Brooklyn, NY
Major: Economics & Business Administration
Achievements: President's List & Dean's List recipient
Sporting interest: Team captain of the Men's Basketball Team
Committees/groups I have served on: Student Athlete Advisory Committee
Favorite Hartwick memory: Spending time with teammates and friends throughout the years
Favorite place at Hartwick: Table Rock Outlook
Advice for new Hawks: Make as many friends as possible. You never know when it'll come in handy!
Future Plans: I will be pursuing an MBA at Rutgers University.
Jacqui Gerstenberger
Hometown: Schoharie, NY
Major: Psychology, Childhood Education Program
Achievements: John Christopher Hartwick Scholar.
Clubs/interests: ASA, Education Club, Water Polo and Psi Chi.
Sporting interest: Intramural volleyball.
Committees/groups I have served on: Student Senate, Commencement Committee, Dining
Committee, IDEAL lab, Writing Center, tutoring.
Favorite Hartwick memory: Getting dressed up and going to the Valentine's dinner with my friends in the Farrington room. 
Favorite things at Hartwick: The groundhogs because they're so adorable and it's always been a joy to see them running around campus.
Advice for new Hawks: Get involved and take advantage of your opportunities. It helps you meet people and make friends as a first year. You can also find opportunities to go places or do things, like study abroad, internships, or research.
Ajala Folks
Hometown: Bronx, NYC
Major: Nursing
Achievements: Dean's List. I am now completing my capstone internship at the A.O. Fox Hospital in Oneonta, where I provide nursing care to patients in the emergency room and the medical-surgical unit. This exciting step puts me in a position to soon work independently and offer comprehensive nursing care for a variety of patients and families.
Clubs/Interests: National Student Nurses' Association, Hartwick College Association of Student Nurses, Black Student Union.
Favorite Hartwick memory: Group study sessions and valuable time spent with friends.
Favorite places at Hartwick: The library (it wasn't until my junior year that I discovered the other floors). The lovely views at Table Rock Mountain, and John Christopher's Cafe for their mango-pineapple smoothies!
Favorite people at Hartwick: My caring and kind professors, as well as anyone and everyone I have the honor to call a friend.
Advice for new Hawks: You will undergo an emotional rollercoaster throughout your college years. It is crucial that you establish a support network and a place to vent your emotions, whether that be through family, friends, activities, a therapist, a counselor, or all of the above. Also, remember to take care of yourself! Remember that you are a human being, not a machine, and that even machines can malfunction or wear out.
Future plans: I plan on working as a registered nurse in New York City and eventually pursue a master's degree. However, I'm willing to embark on whatever adventures this life brings me!
Tayler McDonald
Hometown: Macedon, NY
Major: Public Health
Achievements: I won a public speaking pageant in 2019 Wayne County Fair Queen, which allowed me to advocate for my county as a representative, volunteer work, and meet many politicians, including State Senator Pam Helming. I won scholarships in high school and at Hartwick, including the public health award. I am Red Cross certified in mental health first aid for COVID-19. I was promoted in every job, including team leader at Fairport Baptist Homes, manager at Dollar Tree, and darkroom manager at Hartwick. I was also a research assistant to Kath Kreisher. I made every Dean's list since freshman year and joined the sorority, Theta Phi Alpha national, for which  I was the risk manager for two semesters in a row, and then became vice president. 
Clubs/interests: National Society of Leadership and Success, African Student Association (ASA), Theta Phi Alpha.
Sporting interest: I love to watch the football and basketball games to support my classmates. It's also just a fun activity and a way to hangout with some of my friends.
Committees/groups: The 2023 Commencement Committee 
Favorite Hartwick memory: Going through Greek life recruitment then getting my bid from Theta Phi Alpha. 
Favorite place and person at Hartwick: My favorite place on campus is the John Christopher's Cafe' where Miss Kim will greet you and make your whole day. 
Advice for new Hawks: Get involved on campus – whether that is going to events and games, joining a club, or joining greek life! Being involved on campus really makes this place feel like a second home.
Future plans: I am currently deciding between job opportunities. Right now, they are in different fields and areas within public health. I have one that is from the public administration side and another from a more environmental occupational health and safety side.
Arianna Kehoe
Hometown: Avon, CT
Major: Geology
Achievements: Freedman Prize and Hutch Award
Clubs/interests: Geology Club
Favorite Hartwick memory: My favorite memory is of my friends and I making ramen and sushi in the town house kitchen together after coming back from our J Term in Japan. 
Favorite person at Hartwick: My favorite person is Rosa from comms, she is the sweetest person alive and will always make sure you leave comms fed!
Advice for new Hawks: Don't spend all the Wick-it money during the first month of the semester. You don't want to be craving some sweet potato fries late at night near the end of the semester and have to pay out of pocket because you're out of money! 
Joshua Destin
Hometown: Elmont, NY
Major: Accounting
Achievements: Quality Reviewer with the VITA/TCE Program for which I was responsible for making sure that all forms were entered correctly on a return, and verifying all numbers to ensure consistency with each return. I was involved my junior and senior year. I love the impact this service has on the taxpayers who come to this program, And the professional experience that I've gained from doing so has been very rewarding. I've also earned advanced/military tax certifications,
Clubs/Interests: Black Student Union & ASA; cars and motorcycles. 
Sporting Interest: Football, basketball and boxing. I was involved in all three in high school but only played football in college.
Favorite Hartwick memory: Meeting my football teammates for the first time after talking online for months. 
Favorite place at Hartwick: The view overlooking the town. I like how I can see the whole town and it is a nice view during the spring and fall season when the leaves change colors. 
Advice for new Hawks: Manage your time, have fun with friends, and be sure to build relationships – those are what will help later on in life.
Future plans: I am looking into opportunities within the IRS and state, while pursuing my certified public accountant (CPA) certification. I am studying for it during the spring semester but will be taking the parts of the tests when I graduate.
Kaitlyn Montgomery
Hometown: Winthrop, NY
Major: Biology with minors in chemistry and Spanish
Clubs/interests: Student Government Association (SGA) as vice president of finance; and a "raiser" for Guiding Eyes for the Blind (GEB). 
Committees/groups: Commencement Committee; Campus Safety Committee and the Finance Committee, both for the SGA. 
Favorite Hartwick memory: Move-in day my first year when I met my roommate for the first time and we instantly became friends.
Favorite place at Hartwick: Table Rock Trail. It's a really pretty view with a lot of stopping points for as short or long of a hike as you want. I love to hike up there with Howard, the GEB pup I'm raising.
Favorite moment at Hartwick: I went on the new Silicon Valley Experience to San Francisco during spring break and my favorite moment was meeting Osafo Barker '00 at Pixar. He graduated from Hartwick with a degree in chemistry and it was really cool seeing how he became the senior manager of inclusion strategies at Pixar. It was also really cool meeting Simon Baker '91 – also an alum – and seeing his company.
Advice for new Hawks: Keep an open mind, you never know what new thing  – a class, club, or other opportunity – will be super interesting to you and you might find a new passion.
Future plans: I'm going to Onondaga Community College after Hartwick to pursue an associates degree in paramedics. I'm currently a volunteer EMT-B in NYS and I enjoy emergency services, so I thought working as a paramedic would allow me to do more. It needs a larger skill set and also a good way to make money, gain life experience and do something related before med school. Eventually, I want to open my own nursing home because I've seen the conditions of the ones around my main agency on calls and I don't really like what I see. I want to revolutionize the way we treat our elderly and disabled communities. I'm not exactly sure how I'm going to accomplish this goal yet, but I have some ideas.
Alexandra Aboagye Owusu
Hometown: Mount Vernon NY, Originally from Ghana, West Africa
Major: Nursing
Achievements: Nursing Honor Society; Sigma Theta Tau Honor Society of Nursing; Omicron Chapter. I am a recipient of the Grace Spain Scholarship. I also joined nursing faculty and students on Lobby Day to advocate for simulation to be part of clinical work. And will be graduating as a 3-year undergraduate 
Clubs/interests: Member of the Hartwick College Association of Student Nurses
Committees/groups: The Student Representative Board.
Favorite Hartwick memory: My favorite memory is summer 2021 when I met most of my friends in the Med-Surg class. I have also enjoyed talking to freshmen about the three-year undergraduate nursing program and helping to ease their fears and confusions about the program. 
Favorite place at Hartwick: Golisano and the Commons. 
Favorite people at Hartwick: All 3-year undergraduates of 2023 – Jahmani Cox, Rosheene Ellis and the Dinh sisters. Love you guys so much!
Advice for new Hawks: Do not let fear overtake you. A journey of a thousand miles begins with one step. YOU CAN DO THIS !!! Ask for help and form study groups. 
Future plans: I'm heading to White Plains Hospital for their residency program.
Paige Furman
Hometown: Long Island, NY
Major: Nursing
Clubs/Interests: Black Student Union E-board, HEART peer counselor and HCAB E-Board.
Favorite people at Hartwick: Two of my favorite people on campus are my bosses, Shannon France and Hannah Rama. Shannon and Hannah are both counselors at Perrella Wellness Center. They have always been so supportive of me and have had a positive influence on me as a peer counselor and as a Hartwick student. I am so grateful to have met them during my time at Hartwick!
Advice for new Hawks: Although Hartwick is a small school, there are many different clubs and organizations you can join. I recommend joining clubs you are interested in and going to events. This is a great way to meet new friends and make new connections. Also if you are having trouble adjusting to college life, reach out to the many resources on campus. Adjusting to college life can be difficult, but the faculty and staff at Hartwick are so supportive and willing to help you succeed.
Future plans: My plans are to take the NCLEX after graduation and to pursue a career in nursing on Long Island. Currently, I am completing my capstone on the labor and delivery/ L&D PACU units. This clinical experience has really strengthened my interest in this specialty. And when the time comes, I plan to go back to school to become a family nurse practitioner.
Lilly Whelan
Hometown: Hull, MA
Majors: Political Science and Sociology
Achievements: Faculty Scholar; Pi Sigma Alpha Political Science Honor Society; and Alpha Kappa Delta Sociology Honor Society. 
Clubs/Activities: A Phi Sigma Phi Member, 2020-present; the Philanthropy Chair, 2020-21; Co-Steward of Phi Sigma Phi Sorority, 2021-22; Phi Sigma Phi President, 2022-23; Fifty-Fifty 2020-22; Water Polo, 2019-21; an Admissions Telecounselor, 2022-present; and Sociology Symposium Coordinator (Internship).
Favorite Hartwick Memory: Hartwick is really made up of the people. My best memories are spending time with my friends – whether that be hiking Table Rock, spending time in the Oneonta area, or hanging at the house. These friends have become my family and have made my time at Hartwick so special. Aside from social activities, writing my senior thesis was a major accomplishment on a topic that I chose and I was so excited to present my work at the Sociology Symposium in April!
Favorite Person at Hartwick: There are so many people on the Hartwick faculty that I feel a connection to. But there are two people who really stick out to me. The first is Professor Elder (Political Science), who has truly been a mentor to me especially through my entire Senior Thesis Research. She was always there for me when I needed and helped push my thesis to be the best it could possibly be. She spent so much of her own time trying to help me perfect it and I can't thank her enough for her investment in me. 
A second person is my counselor, Tara Clifford. When I previously worked at Fifty-Fifty – now H.E.A.R.T. – she was always there for me and really cares about student feedback. She is now my counselor on campus and I feel a genuine sadness about parting ways when I graduate because she has helped me through a turbulent time in my life. The staff at Hartwick really makes such a direct and meaningful impact!
Advice for new Hawks: Hartwick is what you make of it. It is a small school so join clubs, go to events (there are so many fun ones), and invest in yourself and in your major. I came from far away and did not know anyone at Hartwick and found my best friends through sticking out the "not so fun" parts and perseverance. Coming to college can be scary but it takes time to adjust, so give yourself time to adjust. The staff has wonderful connections and want to help as much as possible so always be open to new possibilities. 
Future plans: I am headed out into the workforce and plan on applying to jobs after research and networking! My plan is to go back to school in a few years to receive my masters in political science!
Kaylee Miller
Hometown: Bainbridge, NY
Major: Psychology
Achievements: Dean's list every semester. Inducted into Psi Chi honor society, and Andrew B Saxton Psychology Fellow 2022.
Clubs: President of Psych Club. Vice President of Psi Chi Chapter. Member of the National Society of Leadership and Success.
Committees/Groups: Senior Resident Advisor. Commencement Committee. Kellogg Oratory Committee. Intern for Residential Life Department.
Favorite Hartwick Memory: The 2023 J Term trip to Ireland was my favorite because I was able to actually stay with a family in Derry and learn a first hand account of the "troubles."
Favorite thing at Hartwick: The sense of community.
Advice for new Hawks: Never be afraid to ask for help on this campus. The number of people and resources that are here solely to help you thrive in this community is endless. Learn all you can from the professors here at Hartwick. They are some of the very best and most knowledgeable in their field. Lastly, enjoy every minute because 4 years goes by faster than you can imagine!
Where are you headed?: I am going to be attending Middle Tennessee State University in the fall to pursue a master's degree in industrial organizational psychology.
Jason Uhlinger II
Hometown: Carthage NY
Major: Biology
Achievements: I published a paper on orthopedics in the October issue of JSES International, a companion title to the respected Journal of Shoulder and Elbow Surgery, The paper focused on the effect of microfracture on military patients with full-cartilage defect of the glenoid. 
Clubs/Interest: Campbell Fitness Center Leadership Team and head personal trainer.
Sporting Interest: I love soccer and weightlifting. 
Committees: Graduation marshal. I also had the opportunity to be an orientation leader for 2 years – my junior and  senior years. I had a great time and it was a good way for me to help prepare freshmen for the road ahead. 
Favorite Hartwick Memory: Passing organic chemistry! It's a really hard subject as people know so I was so proud of myself when I pushed through and passed. On top of that, it was during COVID, when everything was online, and I still made it through!</span
And cheering at the women's and men's soccer final home games my senior year! 
Favorite place at Hartwick: The view of the valley and the Campbell Fitness Center.
Favorite person(s) at Hartwick: The kindness of the professors. And my best friend, Jared Jackson, who I met freshman year.
Advice for new Hawks: Explore. Go out of your comfort zone, and never ever be afraid to ask for help. 
Future plans: I will be heading to med school next year and making some money at jobs during the time in-between. I'm taking the MCAT this summer and the PA-CAT as well as a backup plan and depending on how they go, I will apply to a bunch of schools to see where I get in. I want to start the following year after I get more invaluable experience in a hospital through another internship- it's still in the talking phase but looking good!
Addy Colligan
Hometown: Stephentown, NY
Major: Political Science and Environmental Sustainability and Society, Double Major
Achievements: Hartwick Honors Program and Pi Sigma Alpha (National Political Science Honors Society). I created my own data set examining the representation of women in states that have banned abortion in the wake of the 2022 Dobbs decision. And then presented this research in February at the Pi Sigma Alpha National Political Science Honor Society student research conference – which is probably the biggest highlight of my academic career! I also presented at the Northeastern Regional Honors Conference 2022 and won the 2023 Saxton Fellowship Award for Environmental, Sustainability, and Society. 
Clubs/interests: Model UN/EU. I decided to participate in Model UN/EU mainly because of Jack Mahn. He's one of my closest friends and he's always actively recruiting for that as well as student senate. I was interested enough to join because I've enjoyed all of my international relations and law classes from poli sci! Plus, Professor Amy Forster Rothbart is the faculty advisor for the club and she's one of my favorite professors. 
Favorite Hartwick memory: The first night back to school for senior year, my roommates and I were on frisbee field playing some games with some friends and new incoming freshman.
Favorite places and people at Hartwick: The Political Science Department and its faculty!
Advice for new Hawks: Get to know your professors and go to them just to talk or ask questions, and participate in class. Professors have so many opportunities and if they know you and your interests/abilities they will recommend you for some really cool opportunities.
Where are you headed? I am currently looking for a job, then hopefully either law school or an environmental-focused masters program in a couple of years.
Philip Ojebor '23
Home Country: Nigeria
Major: Art
Achievements: Dean's List, Juried Student Exhibition, Best in Photography, Rob Jordan '98 Memorial scholarship, and Semenenko Clark Fund for Excellence in Art & Art History.
Clubs: Esport, Japanese Culture Club and Slopes clubs (ski and snowboard)
Athletics: Soccer and basketball
Favorite place at Hartwick: Among the various locations at Hartwick, the Stack Lounge is my preferred spot to unwind and socialize with friends. Additionally, I appreciate the scenic views at Table Rock Mountain and the creative exhibits at the Anderson Art Center.
Favorite Hartwick memories: As a foreign student arriving in the United States, my most vivid recollection is the overwhelming feeling of a close-knit community and a sense of belonging that I experienced at Hartwick College, both within and beyond the classroom setting. All these memories have created many positive memories and experiences that last a lifetime.
Advice for incoming class: Embrace challenges. College can be challenging, but it's always a time to learn and grow. Be bold and embrace challenges and push yourself outside of your comfort zone. With hard work and perseverance, you can achieve great things.
Where are you headed? I am eager to accept a substantial challenge within the professional domain and leverage my expertise in visual communications and creative problem-solving to assist clients and corporations in accomplishing their objectives.
Camila Ramos Mercado '23
Hometown: Ayer, Massachusetts
Major: Music education
Achievements: In January, I traveled to India on a Duffy scholarship to research vocal pedagogy practices in Indian Carnatic music at Sree Sankaracharya University of Sanskrit in Kalady, Kerala. I investigated the impact of colonization on music education pedagogy in the United States by comparing it to the practices in India. In the coming months, I will be presenting my findings to the campus community.
Clubs/interests: I am a member of the Hartwick National Association of Music Educations (NafME) Club.
Advice for the incoming class: Have smart ways to study. Be sure to organize your work, it is not worth losing sleep to complete a homework assignment. Set up a routine.
Trevor Brink '23
Hometown: Lyndonville, Vermont
Major: Business Administration with a Finance Minor
Achievements: Basketball team captain and personal trainer. I also have two Internships: one in-person at Custom Electronics, where I am running their social media accounts and serve as marketing associate intern. The other starts in a few weeks at Baltimore Washington Financial Advisors (BWFA), a financial firm in Columbia, Maryland.
Clubs/interests: Basketball intramurals
Sporting interest: Basketball, lifting and flag football
Favorite Hartwick memory: Senior Night basketball game
Favorite thing about Hartwick: My favorite thing about Hartwick is the people that it has connected me with. Hartwick has given me lifetime friends with a lot of amazing memories.
Advice for new Hawks: My advice for anyone coming in is to enjoy every second of it because it goes by very fast.
Post graduation plans: My plan for after school is to find a few more internships to learn more and gain experience.