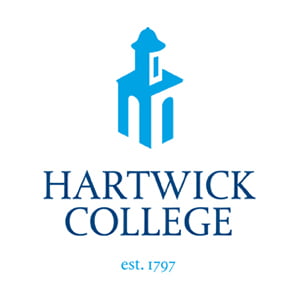 Hartwick's Alumni Awards Salute Influential Graduates, Faculty, and Staff
March 16, 2021
Five members of the Hartwick College community have been selected to receive a 2020-2021 Alumni Award. The honor salutes graduates and current faculty or staff for their service to the College and Hartwick community.
This year's winners are:
Claire Schaper '58 of Stony Point, NY, who will be presented the Meritorious Service Award for demonstrating outstanding loyalty and effective service to the College.
Anna Musser '07 of Somerville, MA, will be named the winner of the Distinguished Alumna Award, which is given to recognize a graduate who has distinguished themselves through outstanding achievements in their professional career and or civic or charitable activities.
Elizabeth Emmons '06 of Quincy, MA, earned the Outstanding Young Alumna Award, given to a graduate of the last decade who has shown exceptional competence, performance, and achievement in professional or volunteer activities.
Dorothy (Dottie) Lewis '65 of Cambridge, MA, has earned the Outstanding Volunteer Award, which recognizes those who have demonstrated outstanding and sustained volunteer service for the College. This includes alumni, retired employees, parents or friends of the College.
Dr. Elizabeth (Betsey) Ayer of Oneonta is the College's Outstanding Employee, as someone who has gone above and beyond their job to support the Alumni Association of the College.
The awards winners were announced today via video, which can be found at https://youtu.be/6vMtywx4364. The group will be celebrated this fall during True Blue Weekend 2021.
"We're pleased to recognize such a distinguished group of alumni and staff," said Director of Alumni Relations Jennifer Janes. "Each has made their mark on the communities they serve. Traditionally, our awardees will be honored during True Blue Weekend, Hartwick's largest annual gathering of alumni, parents, and friends. Given COVID restrictions, we have chosen to honor them through a virtual tribute video that will be shared with the Hartwick Community where they share their Hartwick story and the impact the College had on their success."
Schaper has been in near constant in engagement with the College in the more than 60 years since her graduation. In that time, she served on the Alumni Board (acting as its president in the early 80's), and has since continued to represent Hartwick College, whether at Admissions events in Rockland County or as a Hartwick Delegate at the Mount Saint Mary College swearing in of its new president. Shaper has continuously promoted the College time and time again, and assisted in any role needed as a proud alumna of the College.
Musser has dedicated her career to helping the most vulnerable members of our global society. As a research methodologist at the Massachusetts Institute of Technology (MIT), she designs and evaluates experiments to test the effectiveness of educational technologies and interventions. A former special education teacher, she also develops assistive technology so people with disabilities can live more independently. Much of her work focuses on those without significant financial resources themselves. Musser helped build a study abroad program with MIT-India that brings MIT undergraduates to developing countries where they co-design assistive technologies by collaborating with local college students, working professionals, and people living with disabilities. She has also worked on the MIT Assistive Technology Hackathon, an annual event that pairs teams of students with people from the Boston and Cambridge area living with disabilities.
Emmons teaches English as a Second Language (ESL) in the Pembroke (MA) Public School system, and is known for going above and beyond for her pupils. She crafts homework, lessons, and other activities to be more visual. To more effectively communicate with students and their parents, she has taught herself countless languages (from basic knowledge to full fluency), and has taught herself a variety of computer programs to make her assignments interactive. Emmons is currently working on creating a dual language version of the book The Outsiders for a student whose first language is Portuguese. Emmons teaches classes about the cultures of each of her ESL students and she has been an advocate for many of her DACA students when their parents were deported. Emmons has also embraced the professional challenges brought on by the pandemic: she created a green screen to assist with online lessons, and even re-designing her school's ESL pages to make issues around COVID understandable for her non-English-speaking parents. Her efforts in tailoring remote learning for younger audiences were spotlighted last August in EdTech magazine.
Lewis became the first Hartwick graduate to volunteer for the Peace Corp when she joined upon graduation in 1965. She taught English and math in Ghana for four years, then returned to the United States and held a variety of senior-level academic and administrative positions at private and public higher education institutions across the country. She worked at Harvard University for more than 20 years, then worked abroad in similar capacities for the Virginia Commonwealth University School of the Arts in Qatar and the New York Institute of Technology in Bahrain. She has also given back to her alma mater by serving in a number of leadership capacities. She was a member of the College's Alumni Board of Directors from 1990-2003, serving as its vice president from 1993-1995 and president from 1995-1997. She also served on the Board of Trustees from 2015-2017, and as vice president of finance from January 2018 until her retirement. Lewis was recognized by the College with its Distinguished Alumnus Award in September, 1998.
In 1992, Ayer began teaching Hartwick students ancient, medieval, Renaissance and Baroque art. Her primary research focus, however, was 13th-century Italian painting and the impact of Byzantine art and culture in the West; she also holds a MFA in ceramics. With broad interests, Ayer expanded the College's art curriculum through new courses developed via National Endowment for the Humanities-funded seminars in Japan and Peru. Ayer served as department chair from 2001-2004, co-chair from 2007-2012, and was coordinator of the Individual Studies Program for many years. She guided numerous J-term abroad programs, and for her efforts was named the 2006 recipient of the Margaret Bunn Award and a faculty award recipient for Women's History Month in 2015.
For more information on the awards, contact Janes at 607-431-4013 or janesj@hartwick.edu.