News
Hartwick's Alumni Awards Salute Influential Graduates, Faculty, and Staff
June 14, 2022
Five members of the Hartwick College community have been selected to receive a 2021-2022 Alumni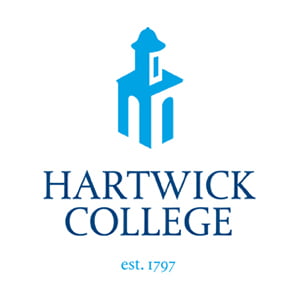 Award. The honor salutes graduates and current faculty or staff for their service to the College and Hartwick community.
This year's winners are:
Sharon Dettenrieder '65 of Williston, VT, who will be presented the Meritorious Service Award for demonstrating outstanding loyalty and effective service to the College.
Mary Jo Dudley '78 of Ithaca, NY, will be named the winner of the Distinguished Alumna Award, which is given to recognize a graduate who has distinguished themselves through outstanding achievements in their professional career and or civic or charitable activities.
Catherine Winters '14 of Schenectady, NY, earned the Outstanding Young Alumna Award, given to a graduate of the last decade who has shown exceptional competence, performance, and achievement in professional or volunteer activities.
Keith Fulmer of New York City has earned the Outstanding Volunteer Award, which recognizes those who have demonstrated outstanding and sustained volunteer service for the College. This includes alumni, retired employees, parents or friends of the College.
Sue Ferris of Schenectady, NY is the College's Outstanding Employee, as someone who has gone above and beyond their job to support the Alumni Association of the College.
The group will be celebrated at a ceremony during True Blue Summer on June 18.
"We are pleased to recognize the contributions and achievements of such an incredible group of alumni and staff," said Assistant Vice President of Alumni Relations & Career Development Megan Gray. "These awardees were all nominated by their peers, a testament to the impact they've had on the communities they serve. We also look forward to honoring them in person again this year during True Blue Summer. It is only fitting this distinguished group be celebrated on campus – as it provides an opportunity to not only formally salute these leaders, but reflect on the impact the College has had in shaping their lives."
Since graduating in 1965, Dettenrieder has dedicated her career and volunteer efforts to improving the nursing profession and its service to the community. She has tirelessly served Hartwick College for more than 35 years as a nursing faculty member, department chair, and as volunteer leader for the Alumni Board of Directors and its Nursing Committee. She was the first to receive the President's Award for the Liberal Arts in Practice in 2009 and has successfully raised awareness and ongoing financial support for nursing education and innovation, scholarships and equipment maintenance at Hartwick.
Winters received her undergraduate degree in environmental chemistry magna cum laude at Hartwick, completed her masters of science in water science & policy from the University of Delaware and is currently working as an environmental program specialist with the New York State Department of Environmental Conservation. As a skilled analyst and leader in her professional community, she is building a significant career in water quality protection and education. According to Hartwick alumnus and mentor Michael Doherty '73, "Catherine demonstrates the type of initiative, professionalism, and dedication that typifies the excellent liberal arts education she received at Hartwick College." In addition to her early career accomplishments, she continues to be a lifelong learner and loyal alumna of the college.
Dudley is the director of Cornell University's Farmworker Program and a faculty member of its department of global development. Since writing her own major in Hispanic counseling at Hartwick, she earned her Ph.D. from Cornell and been a dedicated advocate and educator for New York State's migrant farmworker populations. In 2012, she was selected for a 2012 White House Champions of Change Cesar Chavez Legacy award. She is often featured and interviewed for local and national news and is highly involved with educating and advocating for vaccination among migrant populations.
Fulmer is a loyal Hartwick volunteer and supporter. He served on the college's Board of Trustees for eight years, during which time he led the creation of the Student Trustee Advantage Program (STAP). This year-long mentor program matches students with trustees for career insight, guidance, and network connections. Keith worked directly with staff and faculty to develop the program, make meaningful pairings and ensure valuable connections between students and trustees. According to STAP program alumnus Joel Patterson '96, "Keith has always gone above and beyond to make connections with students and to follow up on how things were going. He is incredibly skilled at bringing people together to kick off a conversation where there could be a common interest."
Ferris has served as assistant vice president of development and engagement since 2018. In addition to her important leadership role for the division of College Advancement, she served as the acting director of alumni relations for two years. She effectively supported and managed the alumni board of directors, planned and delivered True Blue Weekend 2019, introduced a new young alumni awards program, and developed meaningful relationships with the alumni community and campus partners. Her cheerful disposition, dedication, and willingness to serve sets her apart and is appreciated by all who work with her.
For more information on the awards, contact Megan Gray at 607-431-4170 or alumni@hartwick.edu.