Table Rock
Trails
Our trail system preserves natural and cultural values, provides recreational benefits for all; and, ensures our trails are, in the words of Stewart Udall, "irresistible and indispensable."
Table Rock Trails Challenge
Table Rock Trails Description
Since 2017 the Trails Committee has logged over 1000 volunteer hours to develop a sustainable, welcoming hiking trail system on Hartwick's main campus.
The trail system consists of several interconnected loops, adding up to a total distance of approximately eight miles. Each loop offers a unique hiking experience. Take in beautiful views from Table Rock's massive stone slabs or explore the rolling hills of the forest where beauty awaits!
Trail Announcements & Updates
Before venturing out on a hike, please take a moment to read this information!
Please take a moment to read important information posted on entry kiosks and REGISTER YOUR VISIT!
Solar field construction has begun! Exercise caution at the northern end of the blue trail, stick to the marked trail without disturbing any flagging or barriers, and follow all posted detours.
During the construction process, some sections of the trail will be blocked or offline. Please refrain from using these sections until all flagging and blocking has been removed.
The trail system is located on private property. To ensure compliance with the Hartwick Land Use Policy, visitors must stick to designated trails and avoid creating new ones. Any unauthorized trails or trail work will be dismantled.
Fall trail project work has started! Please watch for signs indicating when and where construction is occurring along the blue trail. Note that during construction some sections of trail may be closed.
Leave No Trace Partner
We are partners with Leave No Trace and strive to educate our community to respect and follow the 7 Leave No Trace Principles:
Principle 1: Plan Ahead and Prepare
Principle 2: Travel & Camp on Durable Surfaces
Principle 3: Dispose of Waste Properly
Principle 4: Leave What You Find
Principle 5: Minimize Campfire Impacts
Principle 6: Respect Wildlife
Principle 7: Be Considerate of Others
copyright © Leave No Trace: www.LNT.org
Community Use of Table Rock Trails
Rules & Regulations
Adhere to Leave No Trace principles.
Carry In-Carry Out.
Dogs must be on a leash.
Stay on trails.
Park in designated areas.
Do not alter or create new trails, workarounds or reroutes.
Adhere to all signage.
Adhere to the Hartwick Land Use Policy.
The following are prohibited:
Motorized vehicles
Hunting and logging
Bonfires/campfires
Horses/Horseback Riding
Trail Use Registration & Land Use Agreement
Please help us maintain our trail system by registering your visit! Registering helps us determine usage and develop maintenance priorities. Your information is kept confidential and will not be shared outside of the trails committee and campus safety. You can also register your visit at the trailhead kiosk!
Complete Now
Hartwick College Trails Committee
The Hartwick College Trails Committee maintains and promotes the trails of the Hartwick College Main Campus with a focus on stewardship and wellness.
To accomplish this mission the Committee will work to:
Establish an interconnected network of trails.
Develop and update a trail management plan that includes: a stewardship program for trail use and a trail maintenance plan.
Develop appropriate maps, markings, signage and trail registers.
Develop wellness programs that enhance trail usage.
Partner with local and regional groups to identify appropriate uses for trails, including: communication of trail management plan and expectations and opportunities to coordinate and collaborate on trail development and maintenance.
Provide educational and informational service to the campus community and campus visitors, on how best to use and care for trails and trail history.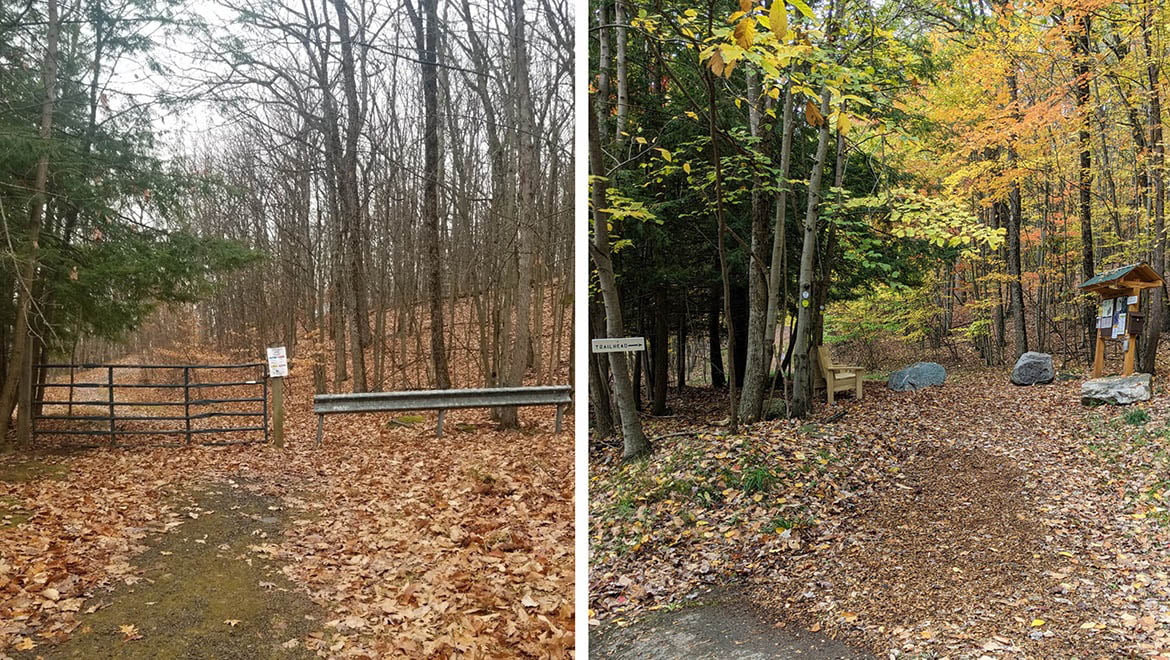 Before and after photo of Table Rock Trailhead, Fall 2023
Learn more about our commitment to preserving our natural surroundings and maintaining a sustainable community.
Hartwick College Trails Committee